President's Biography
Alan Shepard, President & Vice-Chancellor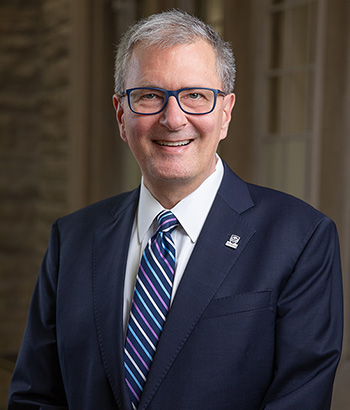 Professor Alan Shepard is the 11th President & Vice-Chancellor of Western University. He arrived at Western in July 2019 after serving as President & Vice-Chancellor of Concordia University in Montreal. Prior to Concordia, Professor Shepard was Provost and Vice-President (Academic) of Ryerson University in Toronto. He has also held senior academic leadership roles at the University of Guelph, Texas Christian University, and the University of Virginia.
American-born, Alan was the first of his family to attend university when he enrolled in St. Olaf College in Minnesota. At the end of first year he realised academia was the life he wanted. Elected to Phi Beta Kappa as an undergraduate, he earned a PhD in English from the University of Virginia, and his scholarship has since been supported by the University of Toronto and the Folger Library in Washington. He is author or editor of three books and many articles focused on the culture of early modern England, early modern literature and science, modern theatre, the future of innovation and the future of universities. 
Beyond his university leadership role at Western, Alan is also actively involved in the community. He has served as a volunteer for organizations including Universities Canada and the Montreal Chamber of Commerce. Currently, Alan serves as Chair of the Council of Ontario Universities, a Vice-Chair on the Executive Committee of the U15 Group of Canadian Research Universities, and also as a board member for the London Economic Development Corporation, Business + Higher Education Roundtable, and the Stratford Festival of Canada.