Regna Darnell,
Founding Director, First Nations Studies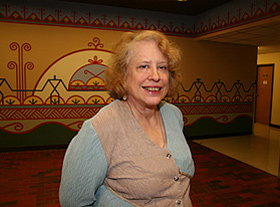 Regna Darnell has impacted a variety of faculties at Western since joining as Chair of the Department of Anthropology in 1990. In 1992 she was Director of the Centre for Research and Teaching of Canadian Native Languages and in 2003 became Founding Director of the First Nations Studies Program, meanwhile also finding time to be Adjunct Professor of Anthropology at McMaster University and Bicentennial Visiting Professor of Canadian Studies and Anthropology at Yale University in 2000.
"Her stature has been attested by numerous awards, both internal and external," says a nomination letter supporting Darnell. "She has held continuous SSHRC Standard Research Grants from the inception of the three year program in 1991, collaborating with co-investigator in linguistics, political science, media studies, history and First Nations Studies. Her career is a real-life model of the Strategic Plan's mandate to facilitate creative interdisciplinarity."
Darnell received her BA in Anthropology and English (Cum Laude) from Bryn Mawr College in 1965, then her Masters in Anthropology at the University of Pennsylvania in 1967 and continued on there to finish her PhD in 1969. At Western she has taught courses on Language and Culture, Foundations of Anthropology, Contemporary First Nations Cultures in Canada, Theorizing Ethnography, Metaphors of Science (evolution, relativity, chaos/complexity), as well as several others.
In research she has a total of more than 340 publications, was the first female to win the Hellmuth Prize in 2000. Research specializations include Symbolic, Linguistic and Humanistic Anthropology, North American Native Peoples (Cree, Slavey, Ojibwe, Mohawk), Canadian Multiculturalism (Ethnicity and National Identity), Ethnographic Theory and Ethnographic Writing, Social Cohesion; Communities under Techno-Stress, West Africa and Cultural Construction of Health and Illness; Ecosystem Health.
She has a large number of graduate supervisions and thesis committee memberships both in her own department and outside. She regularly teaches required undergraduate and graduate theory courses and her teaching ratings are regularly at or near the top of the department.
Darnell says she is quite delighted with the honour. "It is nice to know the university appreciates the work its senior faculty does and therefore recognizes them with this award."